It's more than a patch of dirt – this is the land where your dream house will soon live. So it pays to ensure your block is absolutely right for you.
Here are some important factors to consider before buying your first block of land…
Focus on what will stand your property in good stead when it comes time to sell up one day.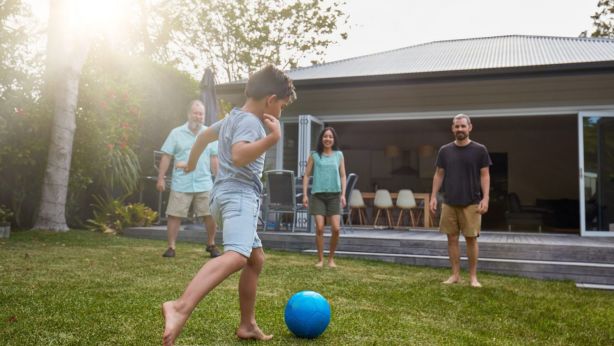 Location, location, location
It's an old real-estate adage but it's still completely relevant – your block must be situated in a spot that makes sense for you. Consider its proximity to public transport and the distance to local amenities, including shops, cafes, schools and medical facilities.

Being close to lifestyle features such as parks and playgrounds may also make a big difference, says Richard Rhydderch, NSW general manager residential communities at property group Stockland.
"Nearby barbecue facilities, playgrounds or fitness equipment also provide significant lifestyle benefits including the chance to connect with your neighbours," he says. "Easy access to bikeways and parks also means a smaller lot could be more appealing as it will be more affordable and require less maintenance."
Everyone's needs are different, so some local amenities that are must-haves for some don't matter for others. But before you eliminate any, think of what will stand your property in good stead when it comes time to sell up one day.
Zoning
There could be nothing worse for new homeowners than finding an ideal plot of land only to discover it's located in a flood zone. Chances are your developer has done the hard work for you by selecting a site zoned as residential. But if you want to double-check, contact your local council. This is also a good way to check how neighbouring properties are zoned.
An idea of your home design becomes integral to the size of block you choose Photo: Jodi Jacobson
A question of space
Growing families always need a lot of room to move – an extra bedroom here, another powder room there and space to kick the footy out the back. Singles and couples tend to need less space, but still need storage indoors and room to entertain outdoors.
This is where an idea of your home design becomes integral to the size of block you choose.
"Home designs are usually determined by the lot width, which means your desired floorplan will also determine the block size," Rhydderch says. "Don't forget to consider the shape of your block. A rectangular lot might be the most popular option, but different shapes and even sloping sites can add a point of interest to your home."
Check orientation
Architects and interior designers are always banging on about orientation, and with good reason. In the Southern Hemisphere, northern orientation is the most popular. Northern sun can passively heat a home and offer protection from eastern and western sun for better energy efficiency.
"This means significant savings on your energy bill, with the placement of rooms and windows further determining the likely temperatures in those parts of the house at different times of the year," Rhydderch explains.
Utilities
Ask your land developer when the land will be connected to utilities – electricity, gas, internet and phone. Determine the connection costs and allow for these in your budget.
This article was originally published on the Domain website on April 19, 2018.